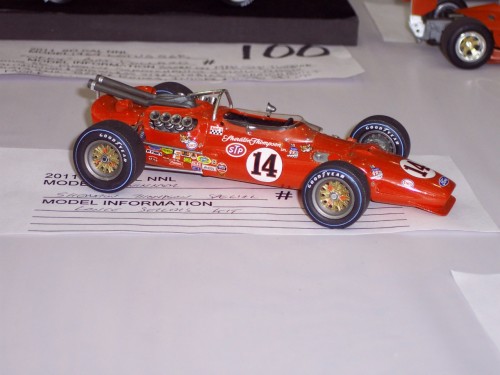 1967 Coyote-Ford Indy Car by Russ Bundy
So Cal NNL GPMA Award Winner
So Cal NNL 2011
Event Report
This year's So Cal NNL was a big step forward for the event, which is run by our member Chris Hale. The attendance was great this year, with good-sized crowds throughout the day. Several race car modelers brought their work to show off, as seen in this brief review of the show.
Dale King showed some of his 1/12 Porsches, including a 935 and several 962s
It was nice to see Lindley Ruddick, Charles Fox, Henry Gonzales, and Dale King.
George Schaeffer also made it to the show, all the way from Florida.
Paul Cadwell showed his Audi and Martini Alfa, along with these impressive GP Bikes:
Chris Hale displayed his GT40 and amazing Lotus 56B Offenhauser Indy Car
Chris won the Theme award with this unique model.
Russ Bundy displayed several Indy Car models. This is the 1967 Indy 500 winning Coyote-Ford.
Perhaps the most impressive model at the show was this Pocher Alfa Romeo built by Gary Arnette.