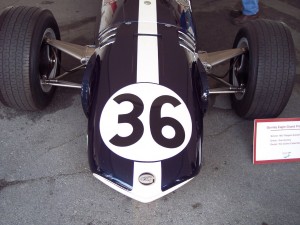 Rolex Monterey Motorsports Reunion 2010
With its new official title and without its longtime organizer Steve Earle at the helm, the vintage races at Monterey seemed as strong as ever this year, with full grids and plenty of spectators. No doubt having Dan Gurney as the focus of the celebration was important to keeping this a popular date on the vintage racing calendar.
See more photos in the GPMA Gallery: Monterey Motorsports Reunion 2010
Gurney Eagle/Gurney-Weslake F1
Winner, 1967 Belgian GP
For me, the standout car of the entire weekend was the Gurney Eagle F1. Everything about this car says winner.
The shape is the classic sixties formula car cigar, but tapered at the front to form the eagle's beak. The details are impressive, from the unique wheels to the beautiful black cam covers. This is a car for the ages.