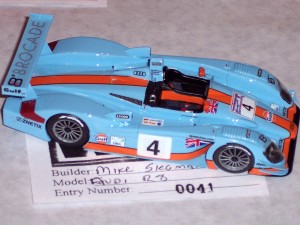 NNL West 2011
February 26, 2011
This year's show included a large number of race cars, many built by our own members,
as you will see below.
Mike Alvarez is a group member and professional model builder.
These three are just examples of the nice work he does.
Mike Siegman is an experienced modeler who also likes 1/43 scale.
This year's 1/43 turnout was probably the best we've seen yet.
Henry Trent came out from Atlanta to display some of his latest projects.
His BMW M1 and Ford GT40 were especially nice.
William Bauer displayed his popular Wally Castro Trans-Am Mustang along
with the recently featured Maxum and the classic Probe GTP.
Curt Raitz always brings several impressive models to the show. The Bugatti
Tank is mostly scratch-built, along with a few parts from Bugatti 35 and
MG TC kits.
Thomas McNamara's Tyrrell 6-wheeler was very clean, as were his Peugeot
206 and McLaren M8B.
Hossain Salimi showed some of his latest builds, which are always well-done.
John Roberts showed two Ferraris with deep, rich paintwork that doesn't show
in these photos. You have to see these models in person to appreciate the finish.
Andy Kellock likes to display his cars together in a group, which makes
it hard to decide on a favorite. They are all exceptional.
Brendan Howden showed the Revell AG DTM Audi and Mercedes. He likes the kits,
and the results are impressive. His sleek Nissan GTP is a unique design.
Keith Brumbley, last year's GPMA award winner, brought two Heller F1 cars.
Anyone who has attempted these kits knows how hard it is to make them look good.
The Ferrari 340 is appropriate for our upcoming contest.
This year's award was a very difficult decision. After much consideration by the judges,
we decided upon the Audi R8 by Mike Siegman. Congratulations Mike!