Rennsport IV
Mazda Raceway Laguna Seca
Monterey, California
When I heard that Porsche was bringing Rennsport to Laguna Seca this year, I was very excited. Having attended the second and third Rennsports at Daytona, I knew this would be a great event.
But the reality far exceeded my expectations. The displays were larger, the crowd was more enthusiastic, and the variety of cars was the best of any Rennsport yet.  Here are some of the highlights of Rennsport IV.
Porsche Park and Beer Garden
The paddock at Laguna Seca was transformed into an open-air automotive display and biergarten, with an Oktoberfest theme.
It was an impressive setting for Porsche to show off some of its historic racing cars, like the amazing 935 Moby Dick and the 16-cylinder 917 . 
Model Car Concours
For Rennsport III in 2007, Henry Trent organized the first Rennsport model car show to display the variety and quality of Porsche scale models. For Rennsport IV, Henry supported the efforts of William Bauer and Andy Kellock to put on another model show for Rennsport. This year's show was another great success, with over 150 models displayed and several former drivers and team owners taking a keen interest in replicas of their rides.
Center: Richard Attwood, Tony Adamowicz, Henry Trent, and David Piper
Right: Derek Bell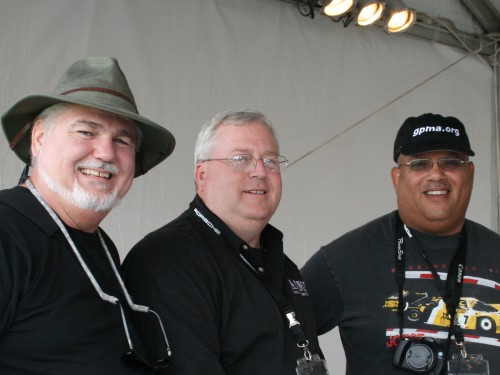 John L. Roberts, William Bauer, Kevin J. Stewart
Many Thanks to Henry Trent, William Bauer, Andy Kellock, Brendan Howden, John L. Roberts, and Michael Quarterman for their hard work and participation that made the Model Car Concours possible. And thanks to Porsche Cars North America for their generous hospitality in welcoming our modeling community to the Porsche Park at Rennsport.
Full report here: Rennsport IV Model Car Concours
Porsche 911 Racing Timeline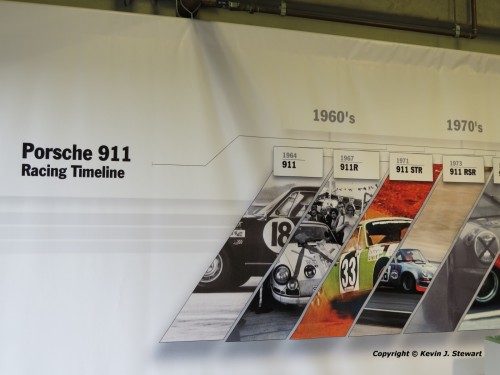 The theme of this Rennsport was the Porsche 911. To commemorate the racing history of the 911, Porsche designed a racing timeline that featured 14 examples of the 911 line. From the first racing 911 through the 2011 Hybrid, it was a very impressive display.
See the full report here: Porsche 911 Racing Timeline
The Corkscrew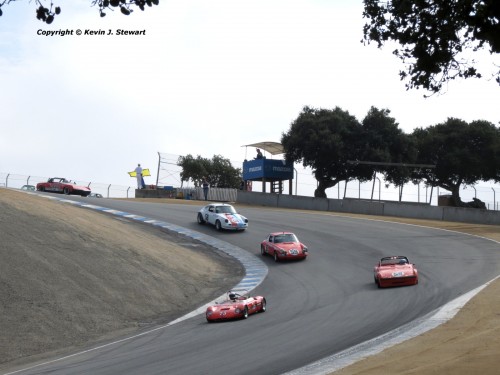 Laguna Seca is known for its scenic beauty, and the Corkscrew is its trademark corner. Seeing historic racing Porsches coming down the hill at the Corkscrew was a highlight of the Rennsport weekend.
Kevin J. Stewart