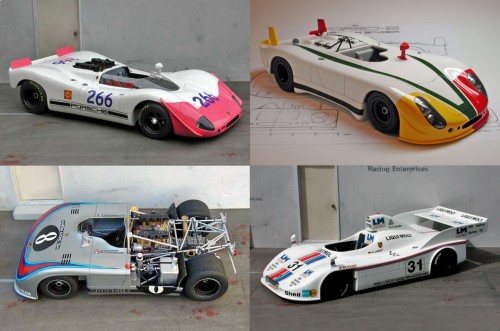 Four Porsche 908s in 1/12 Scale
by Dale W. King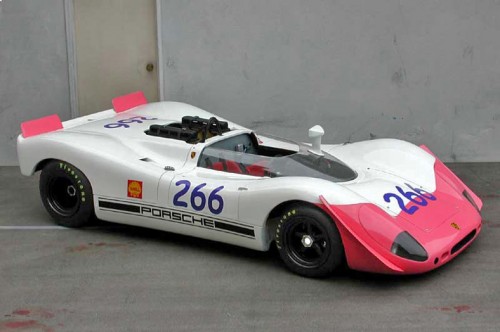 Porsche 908/2 (1969)
This one was based on a very crude kit out of Mexico that I had Motoi Shiozawa/Hapico get for me. I basically saved the body, which I heavily modified, and tossed the rest of the kit away (this was my intention before I even got the 'kit').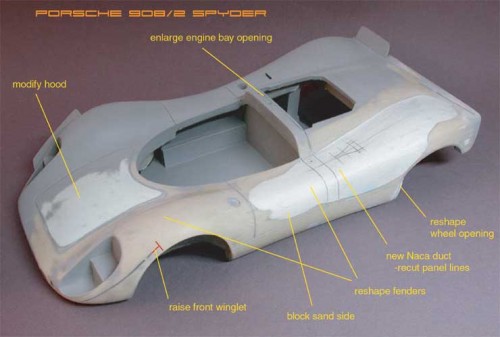 You can see by the photo just a few of the mods made to the body.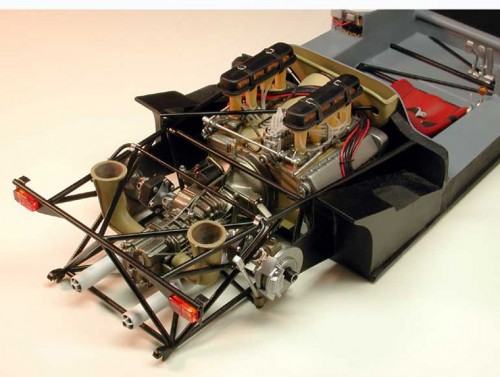 Scratch built pieces include : chassis/frame (the frame is done in brass), just about everything in the cockpit, the entire engine/trans, rear view mirror, rims, tires, tail & head lights, front head light covers and on and on.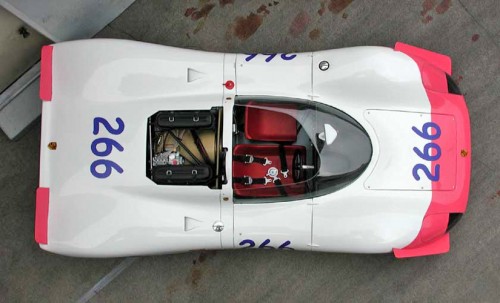 The windshield was made by pulling clear sheet vinyl over a polished buck I had made. The body paint is Tamiya gloss white (TS26) and pink (TS25). It was rubbed out with Tamiya polish.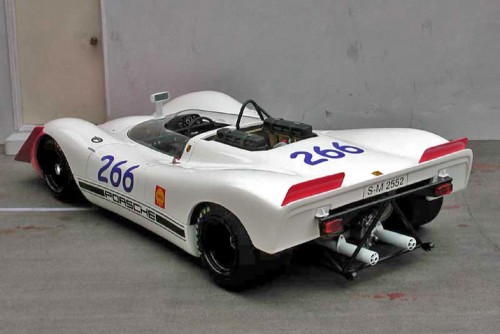 Even though I dumped the majority of the kit, I did use some of the kit decals. The scratch built wheels and brakes are held in place with the custom center lock nuts.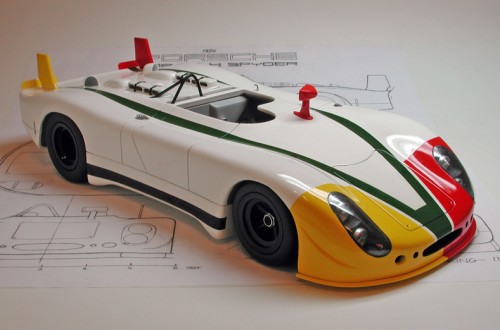 Porsche 908/2 LH (1970)
The 908/2 LH is 100% scratch built from my own plans.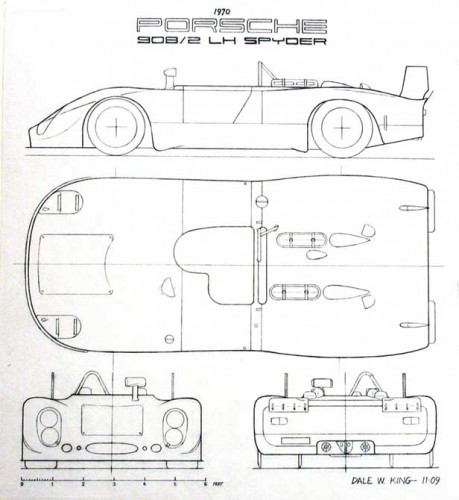 The basic body was built up of individual pieces of Renshape cut out on my bandsaw, glued together and shaped.
The tail lights are created out of Lucite, shaped, backed up with BareMetal and then painted with Tamiya clear red and orange.
For head light covers I created patterns and pulled heated clear plastic over them. The rear brake air scoops were done the same way. The fuel injection 'hats' and tear drop shapes located on the rear deck were cast in resin from my own patterns. The rims are also castings from my own originals. The tires were individually turned on the lathe and the center lock nuts actually hold the wheels on. The disc brakes are made up from my own castings. I did artwork for the original p/e magnesium patterns and then made RTV molds. Things like the gas caps and head lights (both bezels and lenses) were turned in aluminum on a lathe. All the colors on the body were done using Tamiya spray paint ( pure white (TS26), bright red (TS49), chrome yellow (TS47) and racing green (TS43). Masking was done with Tamiya tape.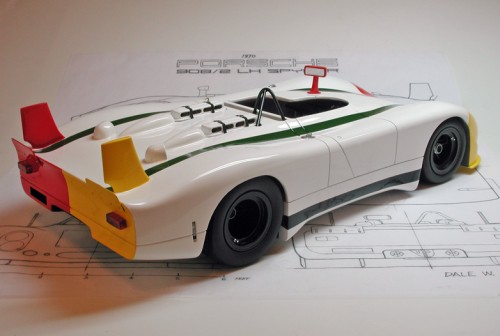 I still have to complete the artwork for the decals and have them printed up on an Alps.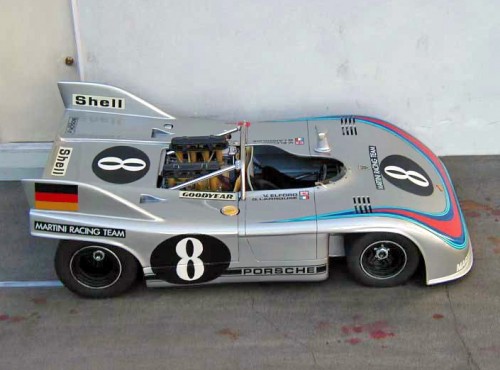 Porsche 908/3 (1971)
This model, which is also totally scratch built from my own plans, was completed nearly 40 years ago. The body was carved in balsa wood then fiberglassed using 3/4 oz. model airplane cloth. Afterward most of the underlying balsa was removed creating a hollow shell. This is the one and only time I used this method.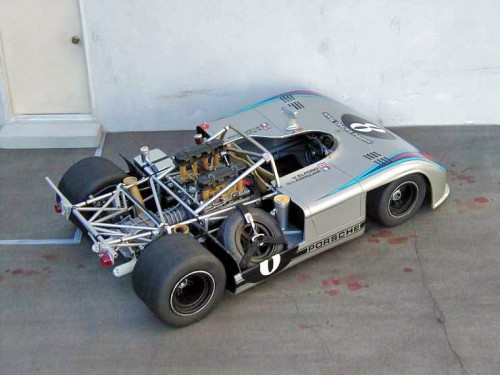 The frame was done in brass tubing. The roll bar and rear support bars were plated in nickel and then clear coated.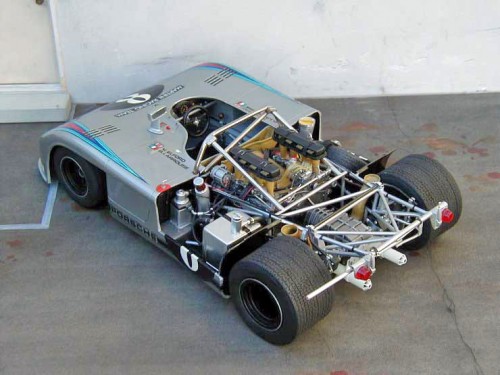 The engine/engine bay was scratch built using Lucite, resin castings, styrene, brass, copper and aluminum. The rims, tires and many other components were cast up from molds I made from my original patterns. The body was painted using Ditzler automotive lacquer – I really miss that product…. it was outlawed many years ago here in California.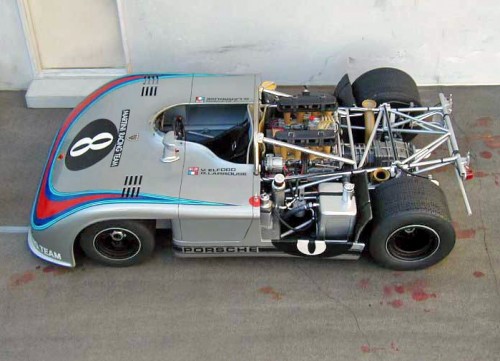 The multi colored area that runs across the nose and up the front fenders and the black roundels with white number were hand painted. The lettering elsewhere was done with press type. Very "old school"…. pre computers. I was very fortunate to have full access to a real 908. I spent many hours photographing and measuring it.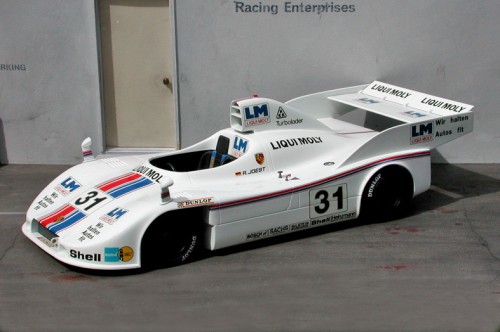 Porsche 908/4 (1979/80)
This started out as a rare styrene R/C body by Tamiya. The basic body was there but everything else had to be scratch built: chassis/interior, dash, seats, steering wheel, rims, tires, brakes, rear frame, turbos (these are resin copies made using Tamiya parts as masters), mirrors, etc.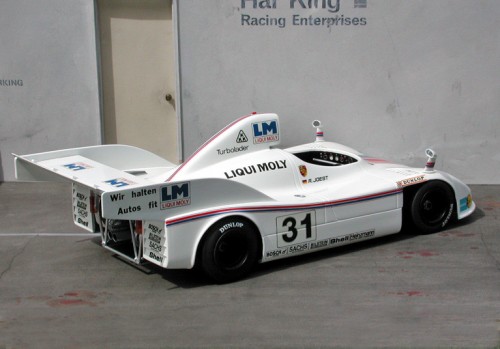 The paint was Ditzler white lacquer that was rubbed out with Semi Chrome polish. The decals were printed up by Derek Collins in his high school print shop in the early to mid 1980s. I wanted to do another version of this car but, even when I built this many years ago, I was unable to find another body.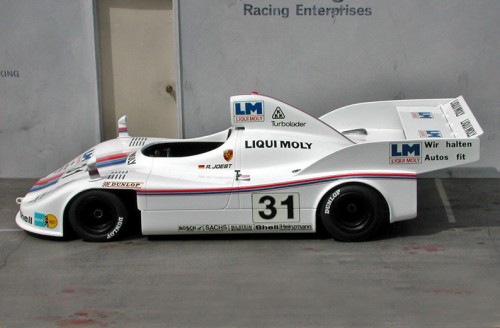 The real car body was a strange combination of a 908/3 nose, 936 cockpit surround/engine hump/air scoop and 917/10 rear fins and wing. Instead of the 908 fuel injected flat 8 engine it had a flat 6 twin turbo.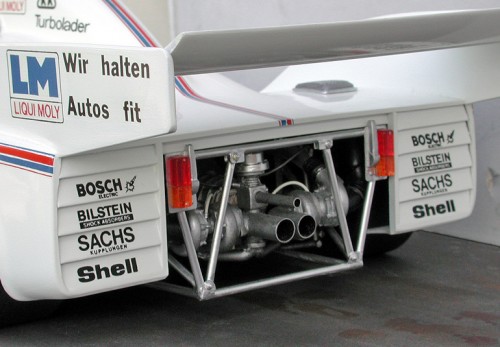 When finished I photograph my models out doors in open shade on one of several 12th scale 'sets'. I wanted to do a fifth 908 – a short tail coupe and thought I could base it on the Tamiya 910 but it turns out the bodies are just enough different that it wouldn't work. Too bad . . . it would have been a nice addition.