Chaparral 2C, 2D, and 2E
Jim Hall's Revolutionary Sports and Can-Am Cars
The Chaparral is one of the most important makes ever to race on the great circuits of the world. Always innovative and sometimes invincible, these cars won many races and were always the focus of attention.

First introduced in 1961, the Chaparral I saw victory in 1962 at Road America. More successful chassis followed in the Chaparral 2 series beginning with the 2A. The 2C was a development of a 2A chassis, and employed the same basic design.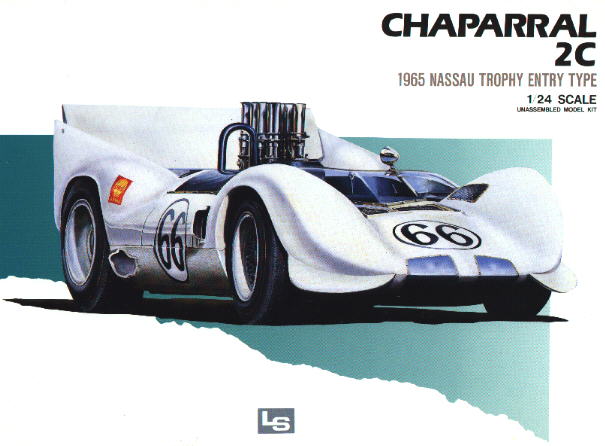 This is the LS 2C kit. It's very rare, but it's out there, sometimes appearing in a 3-pack along with the Porsche 904 and Shelby Cobra. The kit includes white-metal carbs and injectors, a nicely detailed body, and some photo-etched parts.


This Revellogram slot car body conversion is pretty nice. No engine detail, but a chromed insert is provided. Interior detail is also absent, but you do get a nice driver figure.

Tires are a problem; They're Goodyears (should be Firestones), and they require lots of cleanup.

Another option is to go with the Modelers kit, which I haven't looked closely at. The Modelers kit is much more expensive, at $50+.
| | |
| --- | --- |
| | The granddaddy of all Chaparral kits is the IMC 2E, re-released by Union. It is available at swap meets or by other desperate means. Price is $50-75. |
| | Detail is typical IMC, with opening doors and removable front and rear bodywork. |
| | You can see why these kits are sought after today - they were way ahead of their time. |
---
Last modified: June 9, 1997
Send me e-mail: gpma@home.com
Return to home page: Archive Index