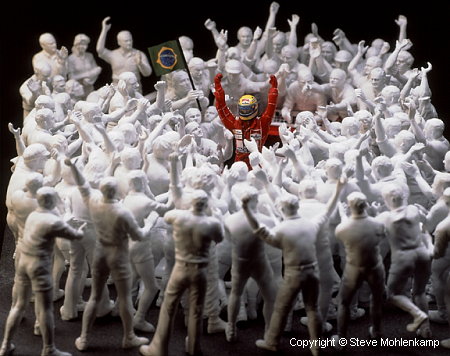 Reign Man
F1 Dioramas

Models, text and photos
by Steve Mohlenkamp
It is a hot, rainy day in San Paulo Brazil. Ninety-seven degrees with high humidity in between showers. It is Easter Sunday, March 28, 1993. The Brazilian Grand Prix, at circuit Interlagos has just ended.
Ayrton Senna, arguably the world's best racecar driver . . . ever, has taken the checkered flag first, and won his home Grand Prix. As he puts in a slow cool down lap, the Brazilian fans are ecstatic with pride, and Senna is obviously enjoying every second of it, one hand on the wheel and the other a clenched fist, waving emphatically. Ahead of him, along the back straight, a fan with a Brazilian flag makes his way through a hole in the fence, and is quickly trackside. Senna happens on the scene, spots the fan, stops, and waves him over to give him, Senna, the flag, to fly from the cockpit for the remaining duration of his victory lap.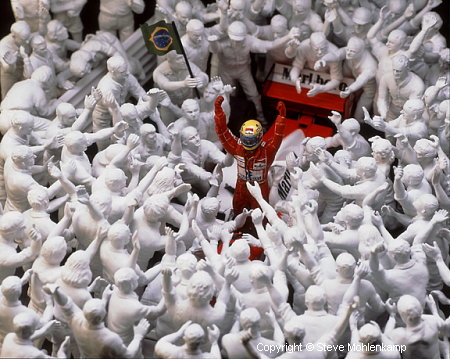 The fan, one moment bold enough to thoughtlessly go through a fence and over a barrier to the edge of the track, the next has serious considerations about actually going out on the "hot" track surface, even though it is a national hero beckoning him to do so. His momentary hesitation, however, will cost him his rightful place in Formula One history, as well as in jail. Behind him, Brazilian fans are pouring through the same hole in the fence at an alarming pace, and as a mob, do not possess the same apprehension, as he, as an individual, to rush the track. They all flee past the fan with the flag, and swarm the McLaren MP4/8 like locusts. Senna kills the Ford V8, while the rest of the field behind him is either just arriving at the melee. One by one, they all pull up behind Senna, shut off, and get out, as the crowd is now growing by the second, and it is clear that it will take a travel agent to get around and go any further.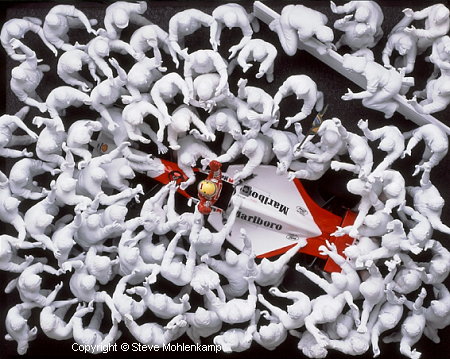 Senna knew very well that the safest place for him, on the moment, was right where he sat, strapped in a protected cockpit, with a helmet on. If all the hi-tech safety equipment surrounding him would presumably protect him from impact and flames at mach five, then it would certainly protect him from his excited fans and countrymen, while sitting absolutely still, wouldn't it? Right now, it was his best bet going, so he sat and waited for help to arrive. It did, in thirty seconds, in the form of an FIA safety car, loaded with track marshals who quickly made their way through the crowd, and to the car. At this point Senna felt comfortable enough to unbuckle and stand up in the seat, head and shoulders above the still growing crowd. It was only now that Ayrton totally realized his surroundings, several hundred Brazilian fans waving and cheering, and without hesitation, both arms shot skyward with clenched fists.
Building Reign Man
This diorama is in 1/20 scale, and the car is pretty much just a moderately detailed Tamiya, McLaren MP4/8, from the 1993 Formula One season. The figures are all "re"created from a pit crew set which features several figures of a pit stop group changing tires and servicing the car. They are all crouching down to address a racecar barely knee high, so some serious anatomy correction was necessary to turn them into standing figures. This was done with a mini torch, compliments of my favorite Mac Tools dealer, Kurtis J Flannery, and for that, I thank him.
The mob was painted flat white to direct attention to the car and driver. Several years of remodeling crouched figures into over ninety standing and cheering, and all completely unique figures that all look like they belong together in a crowd have resulted in this diorama. And the desire to never do anything like this again! The hours were not recorded this time, but it makes me shudder a little to think how many were spent building this thing.
In this mob, besides just under a hundred Brazilian fans, there are several women, three teenagers (1/24 scale adults), two photographers with Nikon F2's, three couples, including a man pushing his wife over the barrier by her behind, flag man, and of course, the racewinner, Ayrton Senna da Silva, along with his current '93 formula one car. Another note of thanks to David Aull for supplying me with the only reference available in the world from which to build this piece. I searched the Internet high and low, mostly high, to find any reference images for this build, and came up absolutely empty handed.
The real incident happened on a remote back section of the circuit, void of good photo opportunities, as well as the fact that any shooter worth his salt was already headed to winner's circle when this moment happened, thus, no still photo images were ever made. It had been three years since the incident by the time I commenced building, and my only memory was of the few seconds of TV coverage. So I called on David and his vast collection of F1 race video tapes, to pull out Brazil 93', which he was kind enough to do. It was just as I had remembered, so on with the plan, without changes.
Also, thanks to the many modelers who sold me affordable, pit crew sets, mostly on ebay, which helped get the job done. Paul's hobby in Provo Utah supplied seven sets in one order, ...thanx, much! Nine years of intermittent work was culminated mid 2005. Crazy! I must certainly be sanity-challenged! Steve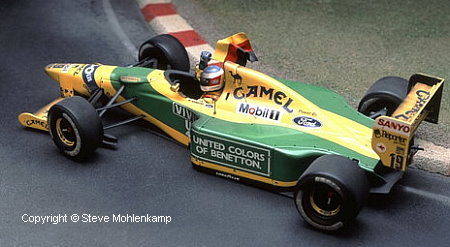 1/20 Tamiya Benetton B192, Belgian GP 1992