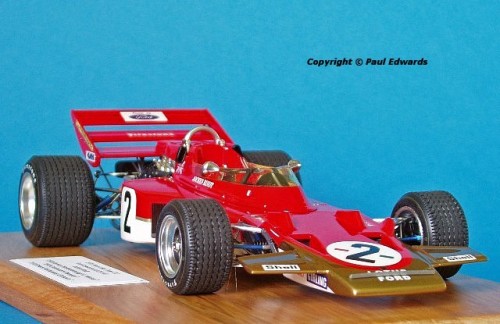 1/20 Lotus 72, 1970 German GP
Ebbro Kit  
by Paul Edwards
Here is my Lotus 72 by Ebbro. This is Ebbro's first kit, and it is a good one. The subject and their planned future subjects are bang on for me, as I have always been fascinated in the older style of racing cars and the evolution of the era.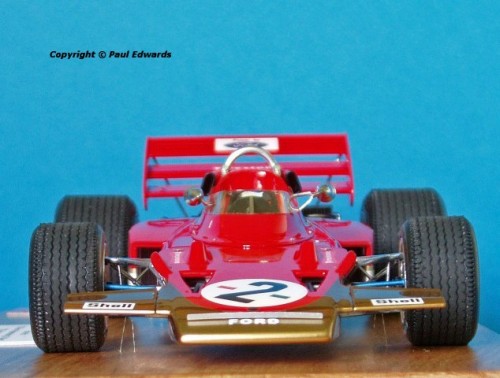 As with this model, I often build for one my country's kit importers, with part of the deal being that I get the finished model back for my personal collection once it has done its tour of duty. Because of this, I try as best as I can to showcase the kit as well as making a model I will one day like for myself. This normally means I have a model which may be fairly box stock to the first glance, but also has whatever improvements I deem as necessary to keep myself happy. It's a good formula for me as I can turn out a model every 2 or 3 months and everybody is happy.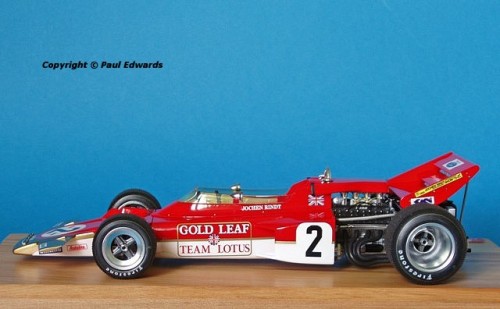 I chose to build the 1970 German GP car in which Jochen Rindt (the only posthumous World Champion) won. The car which interested me most was the Monza car, which had no wings and relied on the 72's wedge shape to keep it down. I couldn't build that as it was a bit of a tragic day. So the German GP it was, which was raced at the Hockenheimring for safety reasons.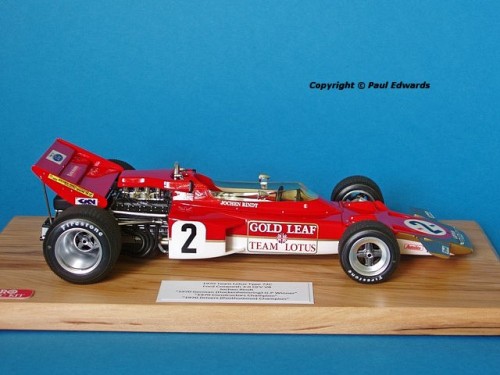 The kit comes with wings and windscreens to suit both the German and British GPs. Building the kit is fairly similar to a Tamiya kit, but with Ebbro's own signature. One of these things was the screw holding the DFV V8 together, and also the screw holding the engine solidly to the monocoque.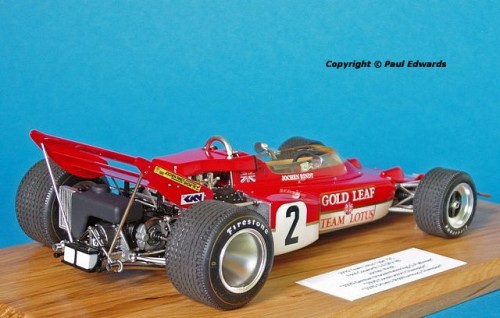 All of the parts are very nicely molded, they fit well, and the finished result captures the subject very well.  Due to the nature of the beast, it is also very time consuming. Nothing is hidden, and everything is on show. The kit is also designed to have removable nose and windscreen for display purposes. I don't like to build my models like this, as you can always see gaps when assembled, so I glued these parts down to keep a flush fit.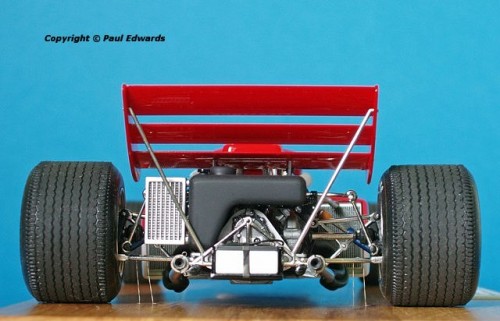 I also added an array of rivets including to the screen and used rivets to hold the rear wing assembly together. I just don't trust myself with glue in these areas! I airbrushed with decanted Tamiya lacquers for the white and red and Alclad II Pale Gold for the gold. I used Zero 2 Pack Clear from Hiro Boy to seal everything in.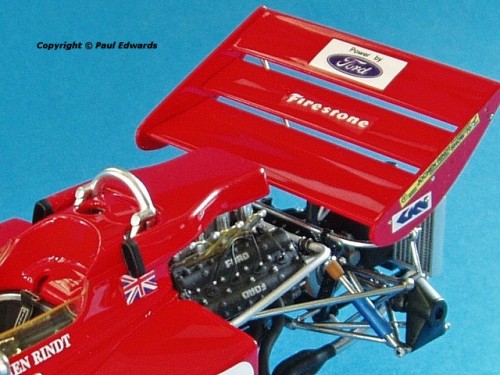 The number roundel for the nose was done with Hasegawa white vinyl, which gives a nice clean finish. My big gripe with the kit was the red styrene. Mine seemed to have a lot of red dye and took many coats of light primer and white to get rid of it. I can't see why such a nice kit would have such a handicap as this. Another small gripe for me was the decals. I just didn't feel they had the crispness and quality of what we have been spoilt with these days. In saying that, the extra sponsor decals by Ebbro were obviously sourced by a different supplier and were lovely. So maybe future kits will be better in this area.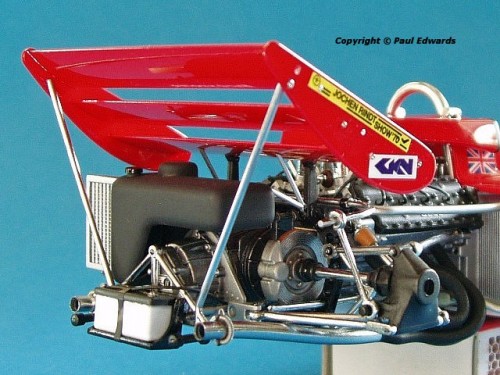 I also stripped the chrome and recoated with AlcladII and used AlcladII polished Aluminum for the wheels. The kit chrome was very nice, but there are always the seam lines so I had to strip it. Easy Off oven cleaner worked fine for me, and it also stripped the undercoat, which was a nice surprise.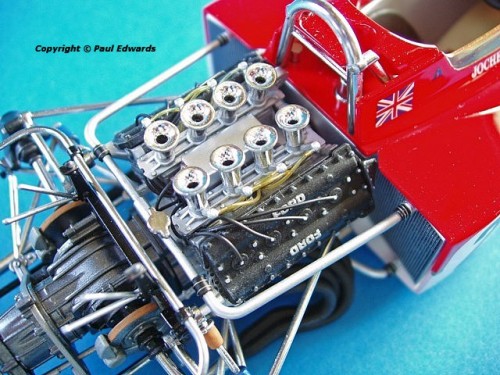 I added an aftermarket racing harness hardware and used my own belt webbing I make from paper. I also added a photo-etch dash bezel and turned toggle switches, Hiro fuel lines and ignition leads, and a few other odds and ends. The rear exhaust brackets were also replaced with electric guitar strings to give the spring effect.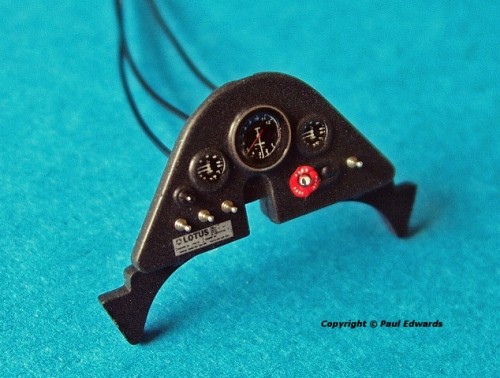 All in all it is a very good kit, and I am excited about the future of Ebbro kits. It would have been an excellent kit, but the red styrene did mess with me a little I must say. I can't wait for their Lotus49, in green! I kept a build diary here for anyone who is interested:
 http://public.fotki.com/eyepaule/model-making/build-progress-pictures/