One of the most common questions that comes up on every auto modeling forum is about color. Like most modelers, those of us who build cars – and in the case of GPMA, race cars in particular – we can get obsessed about getting the color and hue just right, and as historically accurate as we can make it.

Unfortunately, if we enjoy vintage racing, all we have to go on might be black and white photos. Or if we're lucky, we might find some old or faded color pictures. Neither of these are much help if we're looking for that perfect color for a historic subject.

In the days before sponsorship, cars were typically painted in national racing colors (see the National Racing Colors chart, linked at the bottom of this page). Even these were open to interpretation, though. For example, you would expect British Racing Green to be the traditional dark green made popular by Jaguar, but you might be surprised to learn that other marques such as Aston Martin, BRM, and others used different shades, ranging from very pale, light greens to the well known dark colors.

But there are always certain colors that seem to crop up from time to time on the GPMA forum. Let's examine a few of them.
Jagermeister has sponsored a number of well-known race cars through the years. Some modelers have even built a whole series of cars that were backed by the company. So, what's the consensus on the right color for a Jagermeister sponsored car?

Gil Mann, back in 2004, had this to say:
The color mandated in kits of Scala 43/Competition 43, who make a large number of Jagermeister subjects, is RAL2004. This is a European or International code that is not used much in the US. A builder whose opinion I respect had his paint shop match it and came up with Mercedes Truck Rhine Orange, Dupont #46259.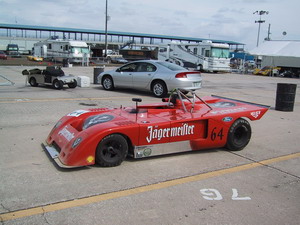 If you can't find a can of the Tamiya spray, Tom Hiett had this suggestion:

Butterfinger orange is really, really close. New wrappers have a couple tints and green leaves that makes it a bit harder. I'm told places that sell auto paint usually have commercial fleet color codes going back to the 20s and somewhere in there is probably a truck color for Butterfinger candy bars. Otherwise, MCW has a McLaren orange.