Traveling Modelers
Guide to Osaka, Japan

Monterey Historics 2009 Photo Gallery

1/12 Interscope
Porsche 935

Events Calendar

1/20 F1 Cars
New Releases

1/20 Fujimi
Ferrari 126C2
Planning the Build
GPMA Website Update
November-December 2009
A Fresh Focus For 2010
As I write this, we are concluding a challenging year. In an effort to provide a fresh perspective on our hobby, I will shift the focus a bit for the future.
People and Events
What's our group really about? It's about great people who share a passion for motor racing and model car building and collecting. So let's start by talking about people who are doing big things in the coming months.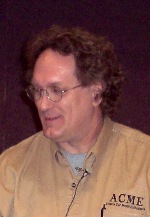 Henry Trent and Southern Nationals NNL
On November 14, 2009, one of the best model shows on the calendar takes place in Atlanta, Georgia, USA. It's not too late to plan your trip. You will not regret seeing the best collection of racing car models on the East Coast.
This year's theme is Retro in the Metro, featuring the popular retro-styled cars: Camaro, Mustang, Charger, Challenger, Beetle, GT40, and more. For us race fans, Speedweeks cars are featured. Any car that raced at Daytona qualifies.
You can't beat the hospitality of Henry and the rest of ACME-IPMS. For more details, see our Events page on this website.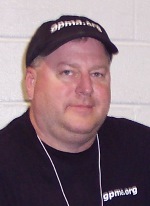 William Bauer and NNL West
While NNL West has been a fixture of the West Coast show scene for almost 25 years, the racing contingent has grown steadily over recent years to challenge the preference for hot rods and customs. We can also thank Bill Bauer for starting the great tradition of a GPMA award, which we will present again next year. So come see us at NNL West and introduce yourself.
Get ready for a big show on Sunday February 21, 2010. Next year's NNL West is happening on a Sunday, so be sure to mark it on your calendar now. For more details, see the NNL West website.

Chris Hale and So Cal NNL
Last year we made a day trip to Canoga Park to see the So Cal NNL. Chris Hale put on a great effort, and it showed in the enthusiasm of the builders who entered models. The next So Cal NNL moves to a new location at the Rancho San Antonio Boys Home in Northridge, CA. The show will be held on May 2, 2010.
Please post a comment on the Events page to tell me about your event. Just a few words with your email or a link to more information would be great.
This month I also want to thank Mark Palacz for his support as a website sponsor. If you're looking for some of the products featured in this month's update, like Fujimi kits or PE and decals from Studio 27, Tabu Design, or Museum Collection, please visit Mark's website at www.mshobbies.com. He will be glad to help you find what you need at reasonable prices.
Thanks to our other sponsors as well – click their logos on the GPMA Home page to visit their websites: SNC Hobbies, Scale Motorsport, ICARO Hobbies, Strada Sports, RCS Motorsport Models, and BHP Enterprises. For details on becoming a website sponsor, visit our Sponsor Page.
Product Reviews and Build Reports
I have heard it said that kit reviews are useless without a complete test build that tells you where all the pitfalls are. I have to disagree, because most builders have different things they consider pitfalls. I think a good kit review will tell you the following:
A brief history of the car, its drivers, and how they performed.
What versions the kit will produce, and whether accurate markings are available.
Reference sources (books, magazines, online)
Recommended body paint colors
Areas where bodywork will be necessary (you don't have to build a kit to see this).
So our kit reviews will include all these details and more. We will also have features on new and future releases.
Member Models
When I started GPMA, we were one of a very few model car websites. So I would get photos and details from people on a consistent basis. Today, I can only rely on a handful of people to ever send me photos of their models. I understand that today people can use Fotki or other sites to display their models, but I think we all prefer seeing larger images with text that tells us the story of how a model went together. So I am asking all of you to take 4-5 photos of your models, add a few words to describe each photo, and email the photos to me. Large images are best, so I can modify them as needed.
We need your editorial contributions most of all, but for those who would like support the website through donations, check out our Donation Page. Your support is greatly appreciated.
Upcoming Contests
To encourage all of you to participate in our contests for 2010, here are the next two contests planned:
60s and 70s Touring Cars – Deadline Jan. 31, 2010
Winners announced Mar-Apr 2010
1/24 Scale F1 Cars – Deadline Mar. 31, 2010
Winners announced July-Aug 2010
See the Contests page for more details.
KJS